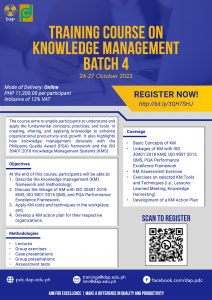 The Development Academy of the Philippines invites you to participate in the Training Course on Knowledge Management (Batch 4) on October 24-27, 2023.
The course aims to enable participants to understand and apply the fundamental concepts, practices, and tools in creating, sharing, and applying knowledge to enhance organizational productivity and growth. The course also highlights how knowledge management dovetails with the Philippine Quality Award (PQA) framework and the ISO 30401:2018 Knowledge Management Systems (KMS).
Course Fee: PHP 11,200.00 (inclusive of 12% VAT)
To reserve a slot on the course, please fill out this link: http://bit.ly/3QH7SHJ
Note: A limited number of participants will be accommodated on a first-come, first- served basis. We encourage you to take advantage of this opportunity by reserving slots early.
For more inquiries, you may contact Mr. Ryan Vincent Lim thru email trainings@dap.edu.ph; limr@dap.edu.ph; or contact number 0976-027-8900.