The primary customers of the National Transmission Corporation (TransCo) were satisfied with its services as shown by the results of the customer satisfaction survey conducted by the Development Academy of the Philippines' Center for Governance (DAP-CFG). The results were reported by Gilbert Lumantao, director of the DAP-CFG Policy Research Office, during the presentation of the 2022 Customer Satisfaction Survey results to the TransCo Management Committee last February 27.
The survey determined the level of satisfaction of the primary customers on the quality of TransCo's services and facilities and evaluated its responsiveness to the needs of its primary customers, namely, the renewable energy developers (RED) who are eligible to receive feed-in-tariff (FIT) allowance, Utility Management Department (UMD) customers, and the National Grid Corporation of the Philippines (NGCP).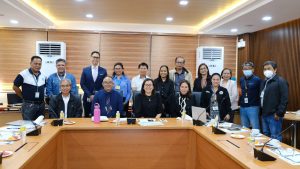 The TransCo Management Committee members with DAP Director Gilbert Lumantao (seated, second from left)
Lumantao commended the TransCo for keeping customer satisfaction consistently high and suggested addressing the identified priority areas to further improve its service delivery.
Some 64 survey respondents were interviewed by phone from December 15, 2022 to January 24, 2023. The respondents assessed the TransCo's service delivery overall and on the following attributes: staff, complaints handling and records keeping, information and communication, information and communication (website), facilities, and integrity.
In addition, each respondent type assessed the services specific to them, namely FIT allowance administration for REDs; product and services (general), and electricity for UMDs; and partner organizations for the NGCP. Some additional questions were introduced, including some pertaining to service delivery changes introduced during the COVID-19 pandemic.
The DAP-CFG Policy Research Office has been conducting the  annual customer satisfaction survey of TransCo since 2015. It has been conducting customer satisfaction surveys in compliance with and consistent with guidelines issued by the Governance Commission for Government-Owned and Controlled Corporations' (GCG).
---
–Nivea Urdas