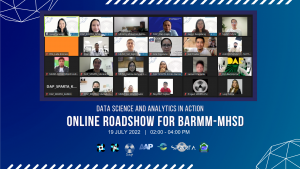 Project Smarter Philippines through Data Analytics, Research and Development, Training and Adoption (SPARTA) held an online roadshow for the employees of the Bangsamoro Autonomous Region in Muslim Mindanao-Ministry of Human Settlements and Development (BARMM-MHSD) on July 19, 2022.
Abdulhamid C. Alawi, Jr., BARMM-MHSD chief of policy and regulation, underscored the importance of the roadshow for the agency. He said that the BARMM-MHSD partnership with Project SPARTA will let their employees "gain more capacities to serve their clients through better data stewardship and data analysis."
He also said that while the cooperation started off small, it is anticipated to "roll on to better capacities that we can use as seeds to grow on with more skills as data enthusiasts."
The roadshow featured Dr. Teodoro Lloydon C. Bautista, SPARTA Subject Matter Expert, who gave an overview of Data Science and Analytics (DSA), its applications to daily activities, importance of DSA to public service, the national target of fostering a data scientist community as well as the need to recognize the increasing global demand for analytics skill sets and professionals.
An audio-visual presentation on Project SPARTA's background, objectives, main learning tracks, courses, and recently launched microspecialization pathways gave the participants a good grasp of the project.
Meanwhile, Jaclyn M. Sangalang, Coursebank's instructional design lead walked the participants through a step-by-step guide on the project's registration and enrollment process for its main and microspecialization pathways.
Ms. Sangalang and Arvie Joyce Cayabyab, SPARTA Information Officer, answered questions from participants about the project's pathways, programs, and events in an open forum.
DAP Vice President and SPARTA Project Lead, Dr. Alan S. Cajes, ended the event by saying "we are proud to support your office as you strengthen your commitment to data science and analytics and moral governance, which is in line with SPARTA's own goal of fostering smart governance practices across the country."
He also called upon the BARMM-MHSD's scholars to enroll in the online courses, attend live sessions, and participate in various analytics initiatives to fully maximize the free resources from Project SPARTA.