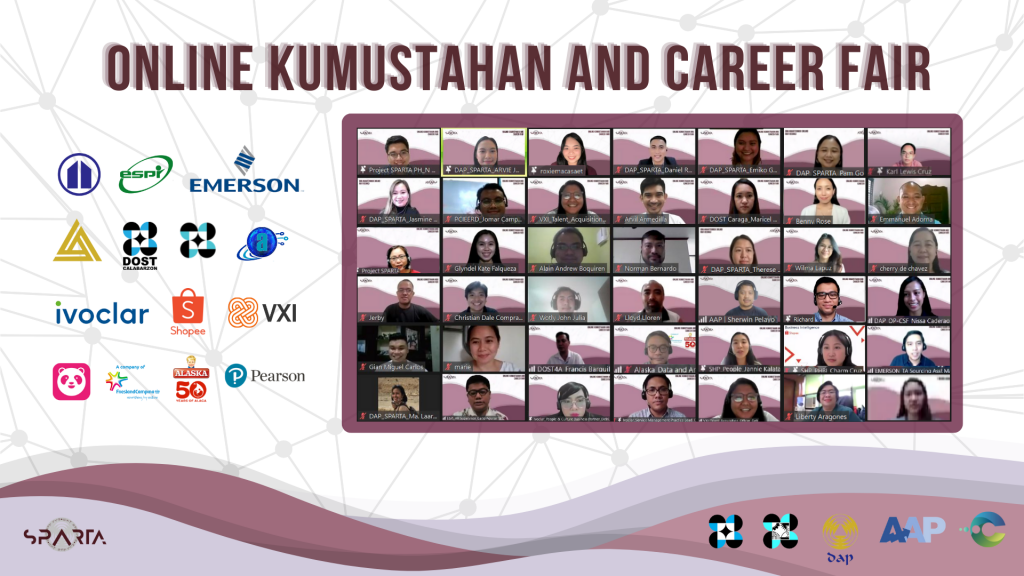 Project Smarter Philippines through Data Analytics, Research and Development, Training, and Adoption (SPARTA) held its first ever Online Kumustahan and Career Fair last May 26-27 via Zoom, Facebook, and Youtube to empower scholars and help fill available opportunities in the data science and analytics (DSA) industry.
SPARTA Project Manager Joanne Liezl Nuque, in her opening remarks, explained that the event is SPARTA's way of helping its "scholars and graduates bring their visions and ideas to life by connecting them with various companies that are also working towards the same goal of a smarter Philippines."
One highlight of the event was the panel discussion featuring Analytics Association of the Philippines Executive Director Sherwin Pelayo, SPARTA graduate Wilma Lapuz, and SPARTA scholar and data analyst Karl Lewis Cruz who shared their journey in the DSA industry.
Cruz, citing his own experience, urged people from different sectors to give analytics a try saying, "One of my biggest challenges was being intimidated and scared to go into DSA. These terms are usually overwhelming for a lot of people but when you get into it, you will see there are a lot of opportunities where you can apply your social scientific and humanistic knowledge to your data analysis."

Echoing Cruz's statement, Pelayo also pointed out that data intersects with various fields and advised people to "build a career in the industry you want to be in but you need to understand that regardless of your profession, you will be dealing with data. Find out what your role will be in that organization and learn new skills to augment your position."

Another highlight of the event was the Career Fair which opened more than 60 job and internship opportunities from 13 organizations namely, the Development Academy of the Philippines – Center for Strategic Futures, Department of Science and Technology-CALABARZON, DOST-CARAGA, Philippine Chamber of Commerce and Industry, EMS Services Philippines, Applied Control Solutions and Technology Inc., foodpanda Philippines, Shopee Philippines, Alaska Milk Corporation, Emerson, Ivoclar Vivadent Inc., VXI Global Holdings Inc., and Pearson.
Dr. Ruby Raterta, chief of the Human Resources and Institution Development Division of the DOST-Philippine Council for Industry, Energy, and Emerging Technology Research and Development vowed that their office will "continue to provide support to SPARTA scholars and we hope to motivate more in completing their chosen pathways."

The two-day event also hosted a writing workshop conducted by Coursebank Course Development Head Benny Rose Ubas and a career workshop facilitated by Senior Program Officer and Career Coach, Dr. Richard Monteverde, to teach participants about achieving a healthy work-life balance once they land a job.