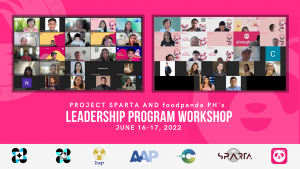 Project Smarter Philippines through Data Analytics, Research and Development, Training, and Adoption (SPARTA) held an online leadership program workshop for Foodpanda Philippines on June 16 and 17, 2022.
Foodpanda is one of the institutions that partnered with SPARTA through the Development Academy of the Philippines (DAP) to promote a data-driven culture in their organization.
43 employees, composed of new and experienced foodpanda managers who are engaged in data analysis and with at least one year of people management experience, participated in the workshop.
The workshop was conducted by SPARTA subject matter expert (SME), Ms. Macrina Lazo, who discussed the definition, value, application, and methodologies of business analytics.
"Through the use of business analytics, we come up with decisions that are based on hard facts and not just gut feel…So, when number speak for themselves, it is easier to reach [a] consensus because the proposed action is backed-up by data," Lazo said as she underscored the value of business analytics in developing and implementing a better-informed and faster decision making process.
Lazo's presentation also included exercises that enabled participants to practice and apply their learnings.
The workshop is one of SPARTA's initiatives to foster a thriving analytics ecosystem by capacitating and upskilling the country's workforce in data science and analytics (DSA). As the project continues in its third implementation year, more events and similar initiatives are going to be conducted for its scholars and other partner institutions.
__________________________________________________________________
-Arvie Joyce Cayabyab