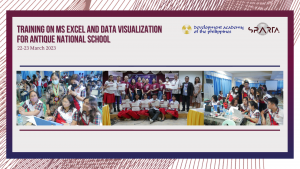 The Development Academy of the Philippines' Project Smarter Philippines through Data Analytics, Research & Development, Training, and Adoption (SPARTA) successfully conducted its first-ever face-to-face training on basic data analytics to some 200 teachers and senior high school students from various tracks, on 22-23 March 2023 in Antique National School (ANS), San Jose de Buenavista, Antique.
Subject matter experts SPARTA project manager Donna Pamella Gonzales and learning technology officer Jerby Lopez delivered the basic data visualization and MS Excel.  The completers were awarded course completion certificates with a total of eight (8) training hours in which teachers can convert into Continuing Professional Development (CPD) points.
ANS principal Roger Jamolo, expressed his gratitude to the SPARTA project team for accommodating their request to conduct the two-day training.
"We continuously look for opportunities to improve our teachers' competence and provide skills to our students. The school is fortunate to be given the chance to learn data science and analytics from one of the best learning institutions, the Development Academy of the Philippines, through Project SPARTA," Jamolo said.
ANS is Antique Province's biggest secondary school with over 7,000 students and nearly 400 teachers.
The introduction of on-site training on DSA for partner organizations is one of Project SPARTA's new initiatives to further spread the importance of data science and analytics for its fourth year of implementation.