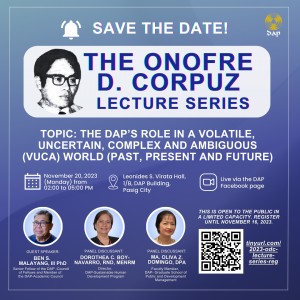 SAVE THE DATE!
The sixth and final installment of the Onofre D. Corpuz Lecture Series will happen on November 20, 2023 (Monday) from 2:00 to 5:00 PM at the Leonides Virata Hall and Zoom Communications, and will stream live via the DAP Facebook page.
Featured Topic: The DAP's role in a Volatile, Uncertain, Complex and Ambiguous (VUCA) world (Past, Present and Future) 
Featuring Senior Fellow of the DAP Council of Fellows and Member of the DAP Academic Council Dr. Ben S. Malayang, III as guest speaker 
Panel speakers: DAP-Sustainable Human Development Program Director Ms. Dorothea C. Boy-Navarro and DAP- Graduate School of Public and Development Management Faculty Member Ma. Oliva Z. Domingo, DPA
This event is OPEN TO THE PUBLIC IN A LIMITED CAPACITY, so register until November 16 by going to tinyurl.com/2023-odc-lecture-series-reg or scanning the QR code in the poster.