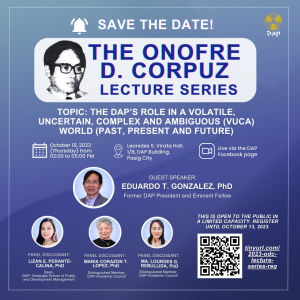 SAVE THE DATE!
The fifth installment of the Onofre D. Corpuz Lecture Series will happen on October 19, 2023 (Thursday) from 2:00 to 5:00 PM at the Leonides Virata Hall and Zoom Communications, and will stream live via the DAP Facebook page.
Featured Topic: The DAP's role in a Volatile, Uncertain, Complex and Ambiguous (VUCA) world (Past, Present and Future) 
Featuring Former DAP President and Eminent Fellow Dr. Eduardo T. Gonzalez as guest speaker 
Panel speakers: DAP- Graduate School of Public and Development Management Dean Dr. Lizan E. Perante-Calina, and DAP Academic Council Distinguished Members Dr. Maria Corazon T. Lopez and Dr. Ma. Lourdes G. Rebullida
This event is OPEN TO THE PUBLIC IN A LIMITED CAPACITY, so register until October 13 by going to tinyurl.com/2023-odc-lecture-series-reg or scanning the QR code in the poster.