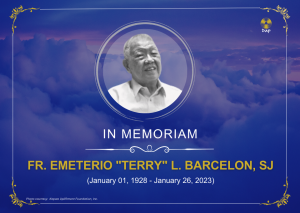 We deeply mourn the passing of Fr. Emeterio "Terry" L. Barcelon, former Senior Fellow of the Development Academy of the Philippines (DAP), on 26 January 2023.
Fondly remembered for his cheerfulness and dynamism, Fr. Terry was known to many as a brilliant academician and a passionate servant of Christ.
As one of DAP's Senior Fellows from 1973 to 1993 and luminaries of the DAP sa Mindanao, Fr. Terry dedicated his life in helping the institution craft government policies and programs that contributed to the country's sustainable development and growth. 
This dedication stemmed from his strong and remarkable calling in life to serve people. He entered the Jesuit Novitiate in Novaliches in 1948 and was sent to the United States of America to study Theology. He was ordained as a priest in 1961 by Bishop Francis D. Keough of Maryland. 
As a testament to his deep interest and natural inclination to learning, Fr. Terry also earned his graduate degree in Business Administration while completing his assignments in the Ateneo de Manila and going through Tertianship to become a Jesuit.
Being an excellent educator, Fr. Terry held several positions in the academe. He was a professor at the Asian Institute of Management in Makati; President of the Davao Medical School and the Ateneo de Davao University (ADDU);  Academic Vice-President and Vice-President for Special Projects at Xavier University – Ateneo de Cagayan. His enthusiasm for education was unwavering as he taught courses in management and business courses to graduate students despite his retirement in 2008.
Fr. Terry also greatly served his fellowmen through his active involvement and participation in the Mindanao Lumad and Muslim Development Center (MILAMDEC). He helped expand and strengthen the foundation so that more poor people and ethnic communities in Mindanao will benefit from its economic development and job creation initiatives.
Fr. Terry did really live an inspiring life. He exemplified what it means to be a public servant and was a "figure of apostolic vigor" as regarded by his colleagues at the Xavier University. His legacy will forever be remembered and remain in the hearts of those who he encountered and worked with, as well as those he taught and helped get a better life and opportunities. 
From the Management, Staff, Colleagues, former DAPpers, and the entire community of the Development Academy of the Philippines, our gratitude to Fr. Terry for his many years of devoted service and undying passion to the DAP and to the Filipino people. May you rest in eternal peace with Your almighty and loving Creator.