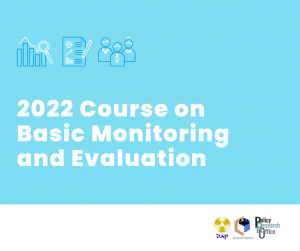 Some 57 technical staff and officers from 26 government institutions nationwide completed the five-day online Course on Basic Monitoring and Evaluation held on August 1-5, 2022 that was implemented by the Development Academy of the Philippines (DAP) through the Center for Governance-Policy Research Office (CFG-PRO).
The course equipped the participants with the necessary skills for effective monitoring and evaluation (M&E) of programs and projects through the sessions delivered by experts and practitioners who served as resource persons.
The resource persons included Peter Dan Baon, program manager, DAP Center of Excellence on Public Sector Productivity; Jesse David, division chief, National Economic and Development Authority; Josefina Almeda, executive director, Philippine Statistical Research and Training Institute; Gilbert Lumantao, director, DAP CFG-PRO; and Laine Velasco, team leader, Save the Children Philippines. The DAP also invited Mariel C. Bayangos,  division chief, and Marie Christ Apit-Pangilinan, senior education programs specialist, of the Department of Education, to share the M&E practices for the Assessment of the DepEd'S Pilot F2F Class Implementation.
The participants were asked to develop a logical framework and M&E matrix for their selected programs and projects—in the areas of health, education, governance, agriculture, social protection, and peacebuilding—as requirements for the course. They also presented their M&E matrices before a panel for critiquing and comment. DAP Director Gilbert Lumantao, Project Officers Ma. Czarina Krisha De Leon, Joebert Sayson, and Merriam Dy served as panelists.
In the closing program, selected participants were asked to share their impressions of the course. They expressed appreciation of the opportunity to learn about the basic concepts of monitoring and evaluation. Other than the training being a learning experience, they also said that it helped to establish their network, especially from agencies from different sectors.