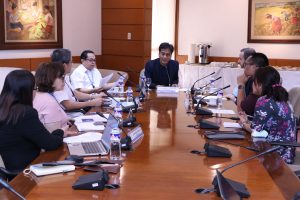 April 24, 2023, DAP Pasig – Political officers from the Embassy of France to the Philippines and in Micronesia visited the Development Academy of the Philippines to discuss possible collaboration in line with the partnership between the DAP and Institut National du Service Public (National Institute of Public Service, INSP), France that was inked on June 26, 2022 in commemoration of the 75th anniversary of France and the Philippines diplomatic relations.
Vadim Melka, councilor to the Embassy of France to the Philippines and in Micronesia and Paulo Udani of the Campus France Philippine office were received by President and CEO Atty. Engelbert Caronan, Jr., Vice Presidents Dr. Alan Cajes, Arnel Abanto and Nanette Caparros, and Director Joanne Nuque. Melka who is presently taking his masters degree program at the INSP presented the current programs of INSP, stating further that the cost of living in France may be quite high, but the tuition fee in INSP is free. Both parties discussed the similarities in their programs and initially recommended initiatives and arrangements that DAP and INSP can explore. Udani, on the other hand, reiterated that DAP's proposal should be coursed through Campus France Philippine office.
INSP (formerly ENA), created on 1 January 2022, is the new French public operator of reference for the recruitment, initial training and continuing education of senior managers and leaders of the State.
As a school of application of excellence of future administrators of the State, the INSP's mission is to establish partnerships with the academic world, in France and abroad, and to contribute to the international influence of France.
Strong ties with the French operator since 2014
The DAP has a long-standing partnership with the French operator, which was formerly École Nationale d'Administration (ENA), France. The first MOU was inked in 2014 by then DAP President Antonio Kalaw and ENA Director Nathalie Loiseau. DAP and ENA have a lot of similarities/commonalities when it comes to the roles in training civil servants.