As the nation celebrates the National Women's Month (NWM) this March, the employees of the Development Academy of the Philippines (DAP) expressed their support by wearing purple outfits and/or accessories every Wednesday of March 2023.
This year's celebration focuses on gender equality and inclusive society. To further promote these advocacies, the Philippine Commission on Women (PCW) encouraged everyone to wear purple on all Wednesdays of March.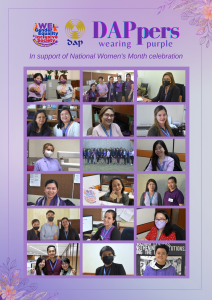 Aside from the purple outfits, the DAP also held an interactive online game and posted social media collateral to express its support for equal gender rights and opportunities. To cap off its celebration of gender equality and inclusivity, the Gender and Development (GAD) TWG will conduct a mini-program dubbed as "DAP Musikahan Para sa Lahat: Celebrating Women's Month Inclusively" on March 31, at the Leonides Virata Hall.
__________________________________________________________________
-Arvie Joyce Cayabyab