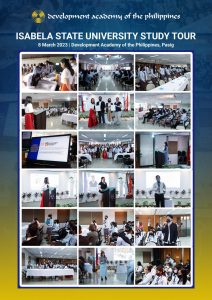 March 8, 2023 –  The Development Academy of the Philippines (DAP) welcomed some 43 Public Administration students from Isabela State University (ISU) Echague under the Institute of Public Administration and Governance.
The students who are visiting some government agencies in Manila from March 6-8,  were welcomed by DAP Graduate School of Public and Development Management (DAP-GSPDM) Dean Dr. Lizan Perante-Calina and Human Resource Development and Management Department Acting Managing Director Richa Tibo. 
In her welcome address, Dr. Calina challenged the students on what they can do and encouraged them to put their creative ideas into action.  Director Tibo, on the other hand, encouraged them to familiarize themselves on the role of the agency/institution that they want to be part of after graduation, and to always give their best efforts:  "Whatever (you) do, no matter how small, that is (your) contribution to the development."
Ellinor Santos of the Institutional Marketing Center (IMC) gave a presentation about the DAP – its mandate, functions/roles, organization structure,  key programs and history,  while Lawrence Malasa presented the programs of GSPDM. The students and faculty members also took home tokens and APO Vision 2025 desk calendars as part of their participation in the program via the games facilitated by the IMC. 
The study tour aims to be a learning experience for ISU's Public Administration students to appreciate the value of public service and the role of Philippine pub