After three years, the Public Management Development Program (PMDP) welcomed the 30th batch of the Middle Managers Class (MMC) in a face-to-face opening ceremony on 5 September 2022 at the DAP Conference Center in Tagaytay City.
DAP President and CEO Atty. Engelbert Caronan, Jr., in his welcome remarks, congratulated the scholars for making it into the Program and reminded them that their presence in the ceremony is a testament to their being high-performing and high potential public servants — a cut above the rest. He further said that their admission to the MMC attests their passion for continuous self-improvement and urged them to seize every learning opportunity to take public service to the next level.
Meanwhile, DAP Senior Vice President for Programs Magdalena Mendoza and PMDP Managing Director Nanette Caparros introduced the PMDP faculty and team, respectively. MMC Batch 30 Class Director Virginia C. Aldea formally introduced the new scholars.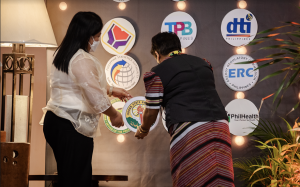 Scholars mount their agency logos as part of the rite of inclusion
Lordinio A. Vergara, class president of MMC Batch 29-Talaghay, threw the challenge of excellence to the incoming batch. "Aside from the learning process itself, be ready to venture in trailblazing programs and campaigns that will back up much-needed reform and recalibration in our system of public service. On top of it all, do not forget to build indefatigable rapport among you, the noble members of Batch 30. Sila ang pinakamahalagang kakampi ninyo sa laban na ito kaya huwag palalampasin ang pagkakataong kumonekta," advised Vergara.
On the other hand, Abraham Kalim from the Bangsamoro Autonomous Region of Muslim Mindanao (BARMM) accepted the challenge on behalf of MMC Batch 30 and expressing their class' excitement and pride for having been accepted to the Program after all the intensive and grueling processes. He shared that, as future leaders of this country, they are fully aware of the hardships and sacrifices they have to endure as they tread the path of excellence and self-realization.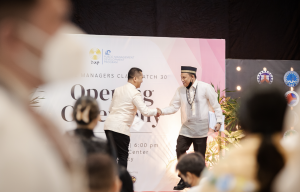 Abraham Kalim (right) accepts the challenge of Lordinio Vergara (left)
National Economic and Development Authority Region IV-CALABARZON Assistant Regional Director Susana S. Santiago, MMC 8-Siklab alumna, served as the inspirational speaker. She described her time as a PMDP scholar a worthwhile experience. Santiago advised the members of MMC Batch 30 that that "it is okay not to be okay" as it will be part of their journey as scholars and their experiences will be worth it.

ARD Susana Santiago (left) and ED Maria Marcy Ballesteros (right) deliver inspirational messages to the scholars
Career Executive Service Board Executive Director Maria Marcy C. Ballesteros, representing the NGCESDP Steering Committee, reminisced about her time as a Senior Executives Class Batch 3-Sinagtala alumna, declaring that the PMDP is their road to better opportunities to serve the higher civil service. Ballesteros advised the new scholars to develop a strong network among themselves as this will benefit them as well. She also urged them to embrace opportunities to collaborate and to be inclusive in governance for it is the key to success as a nation and will help them grow as individuals.
The 31st batch of the Middle Managers Class will open on 16 January 2023, deadline of nominations is on 15 November 2022 and the 12th batch of the Senior Executives Class on 20 February 2023, deadline of nominations is on 30 November 2022. For more information, visit the following: