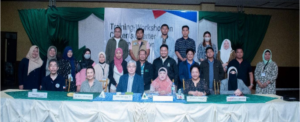 Officers and members of JICA, DAP, and BARMM Office of the Chief Minister pose for a group photo.
(L-R, first row) Mr. Shigeo Kato, Dr. Julie Catherine Paran,  Mr. Hirofumi Hoshi, Dir. Narcisa Macog, Vice President and Managing Director Imelda Caluen, Internal Auditor Hasmiene Ibrahim and  training participants (second
and third
rows).
The Development Academy of the Philippines' (DAP) Center for Governance (CFG), through its Local Governance and Development Office (LGDO), conducted a two-day Training-Workshop on Citizen's Charter Implementation and Sustainability for some 195 participants from the Bangsamoro Autonomous Region in Muslim Mindanao (BARMM) representing 15 ministries and 20 regionally-created agencies and offices on February 9-10, 2023 at the Alnor Convention Center in Cotabato City. 
The training-workshop, delivered through a hybrid-mode, aimed to help BARMM agencies and ministries implement and sustain their respective Citizen's Charters. It is the last among the five components of the "Training and Technical Assistance on the Formulation/Updating of the Citizen's Charter for the BARMM" project implemented by the DAP for the Japan International  Cooperation Agency (JICA).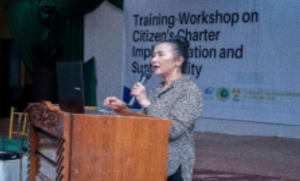 Dr. Julie Catherine Paran discusses the first session of the training-workshop focusing
on implementing and sustaining the Citizen's Charter.
The first session focused on the implementation and sustainability of a Citizen's Charter and was discussed by Dr. Julie Catherine Paran, former LGDO director. Paran was instrumental in the development of courses, books, and manuals on Citizen's Charter for the national and subnational governments. Her session was followed by a workshop on the development of Citizen's Charter implementation plan.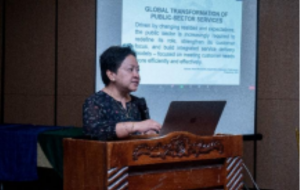 DAP Vice President and Managing Director Imelda Caluen talks about the strategies in facilitating 
ease of doing business during the second session of training-workshop.
Meanwhile,  DAP Vice President and CFG Managing Director Imelda Caluen handled the second session on various strategies in facilitating ease of  doing business. Caluen mentioned initiatives of several national government agencies in streamlining, digitizing/ digitalizing, and standardizing their service delivery.  The session was followed by a workshop on streamlining and continuous improvement plan which allowed the participants to set their targets in reducing the number of client steps, turn around time, required documents and signatories, and propose initiatives to digitize, digitalize, and  standardize their services. The participants' outputs were then presented and synthesized for further guidance, polishing, and refining.  
Aside from the new insights gained during the workshop, the two-day activity integrated lessons from "Training Workshop on Citizen's Charter Formulation and Enhancement" and the "Technical Review of Draft Citizen's Charter" which were undergone by the participating ministries and offices from May to December 2022.