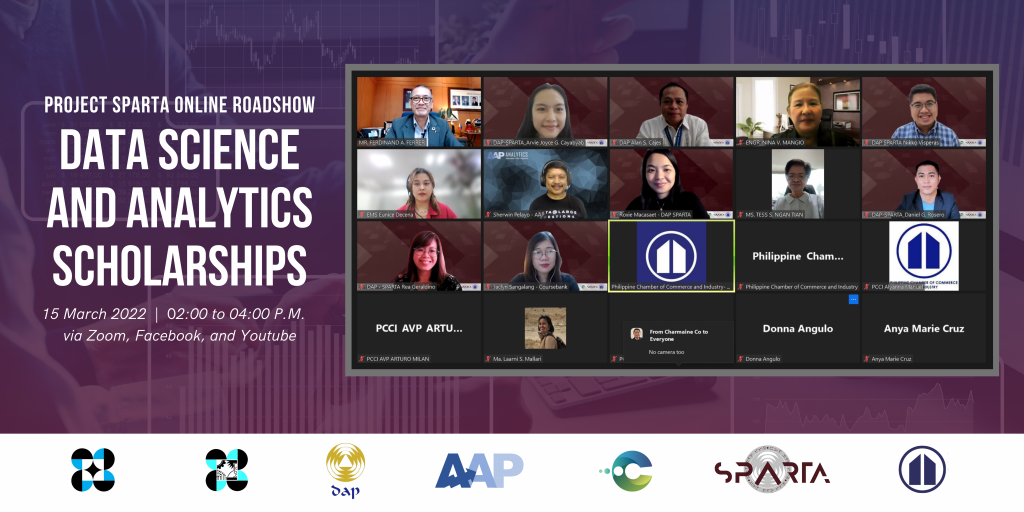 The Development Academy of the Philippines (DAP) and the Philippine Chamber of Commerce and Industry (PCCI) held a virtual roadshow on Smarter Philippines through Data Analytics, Research and Development, Training, and Adoption (SPARTA) to introduce the project to PCCI members and orient them on the importance and relevance of Data Science and Analytics (DSA). 320 people participated via Zoom, while 671 watched the livestream on Facebook and Youtube.
PCCI President George Barcelon, in his opening remarks delivered by PCCI Vice President Ferdinand Ferrer, shared how businesses are positively impacted by the use of data and analytics.
"In the age of technology and the internet of things, each click has translated into valuable data…More businesses are coming to the gradual realization that data is now more strategic asset rather than a mere secondary information. This signals the need for cultivating a culture of data-drivenness, enhanced and developed by a clear strategy on how to use data, investing in analytical tools and upskilling the workforce in Data Analytics," Ferrer said.
Analytics Association of the Philippines (AAP) Executive Director Sherwin Pelayo explained the importance of DSA and discussed the different analytics roles.
"Everyone has a place in analytics. You just need to find yours [by determining] what your strengths are," Pelayo advised the participants in choosing the appropriate pathway.
He also talked about the ideal number of analytics roles that a business would need: "I think na ang pinakamarami that the business [sector] would need are functional analysts… and then you need more data engineers… one data scientist, one data steward, and analytics manager depende if you have analytics projects that are ongoing."
Pelayo shared that there is low supply of data stewards and analytics managers resulting in a large demand-supply gap, while those of data engineers and data scientists has a relatively smaller gap compared to the former.
Coursebank Instructional Design Lead Jaclyn Sangalang discussed the step-by-step application process after the audio-visual presentation on SPARTA's background and learning pathways was played.
She also shared several tips that can help learners complete their pathways and courses such as enrolling in one course at a time, setting learning goals and schedule, and eliminating distractions.
"We hope that you can be with us in developing data-driven solutions to establish a data-literate workforce in the country," Sangalang said, as she encouraged learners to take part in fostering the Philippines' analytics ecosystem by upskilling in DSA through SPARTA.
The activity featured an open forum to answer participants' queries regarding the project with Ferrer, Pelayo, Sangalang, and DAP-SPARTA Deputy Project Manager Nikko Visperas serving as panelists. Visperas also announced DAP's commitment of 300 scholarship slots for the PCCI during the open forum.
The online roadshow ended with closing remarks from DAP President and CEO, Atty. Engelbert Caronan, Jr., delivered by Vice President and SPARTA Project lead, Dr. Alan Cajes.
"To our PCCI member companies and our future SPARTA scholars, we encourage you to persevere in completing your SPARTA chosen pathways and courses…Your earned credentials in data science and analytics will definitely contribute to enhancing your professional careers while at the same time, contribute to the growth and development of your respective organizations and communities," Cajes stated on behalf of Caronan.
XXX