The Development Academy of the Philippines-Productivity and Development Center is holding a free webinar on RiskTalks: A Sharing Session on Strengthening Risk Management (RM) in the Public Sector on 25-26 October 2022, from 9:00 am to 11:00 am via the Zoom platform and YouTube live streaming.  Public sector agencies, particularly members of the risk management team, as well as individuals from private and civil society organizations are welcome to attend.
Participants will learn from seasoned implementers from various sectors of the government (i.e., academe, healthcare, and national line agencies) the RM process, techniques, tools, and methodologies for establishing and implementing an RM framework based on ISO 31000 Guidelines.  Sharers will showcase proven and tested approaches that their respective agencies have been utilizing to manage and continuously improve their RM.  
This activity supports the technical assistance on strengthening RMS in conformity with ISO 9001 Quality Management System requirements and its integration with ISO 31000 Guidelines on Risk Management project of the Government Quality Management Program. 
A digital certificate of attendance will be issued to participants who have completed the session (logged in the Zoom/YouTube platforms), registered in the online attendance sheet, and accomplished the Google Form Evaluation Survey. 
Register here: bit.ly/RISKTALKS2022
Follow us on our YouTube Channel: bit.ly/PDCYouTube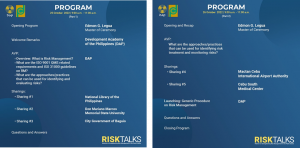 For inquiries, you may contact Ms. Mary Ann I. Mayo at mobile no. 09663898298 or via email address: mayom@dap.edu.ph.