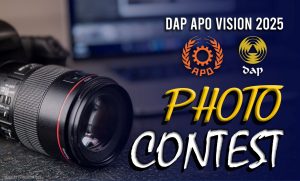 The Development Academy of the Philippines (DAP) earlier announced that the entry titled "Weave to Web" of Danilo O. Victoriano, Jr., who's affiliated with the Samahang Litratista ng Rizal and the Federation of Philippine Photographers Foundation, won first place in the APO Vision 2025 Photo Contest with the theme, "Innovation for Higher Productivity." Victoriano's entry features women traditionally weaving banig using the Internet to improve production sourcing, promote their products, and reach the global market.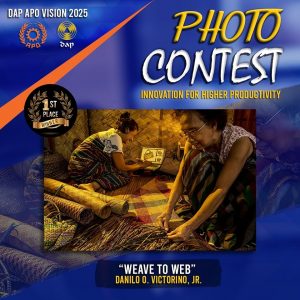 The second place went to the entry "Golden Harvest" submitted by Zanel John Dumayag of the Mariano Marcos State University which features the use of a tractor as an innovation to easily harvest the "nation's golden reserves." Meanwhile, the entry titled "Integration of Automated Student Identification System for Heightened Security and Easy Campus Entry" by Maxidy Bianca F. Sumera of the Far Eastern University (FEU) features a student using a simple innovative solution such as the ID system to improve security within the university.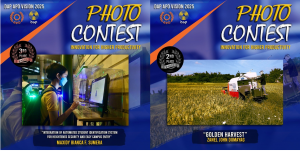 The contest received 136 entries from 84 individuals composed of students, government employees, and private sector employees across the Philippines.
The other nine finalists include the following: "Gulayan sa Paaralan, Solution to Ease Malnutrition" (Christopher Fajardo); PUP Education on Wheels" (Christopher Andres); "Tapping into Technology for Safety" (Milliesa L. Flores); "Tamaraws Tap" (Alexia Julieanne P. Fernandez); "Tuloy ang Daloy para sa Bayan" (Amelia N. Paulate); "Information Gathering across Different Mediums," (Mary Vel S. Custodio); "Convenient and User-Friendly" (Michael Rey S. Baniquet); "Accelerating Talent Development in the Knowledge Economy Era using Learning Experience Platform" (Adrienne Valerie M. Valdez); and "Innovation through Wellness Recreation Program" (Maxidy Bianca F. Sumera).
The first, second and third place winners will receive PhP15,000, PhP10,000, and PhP7,000,  respectively, worth of gift certificates. Likewise, the other finalists will each receive PhP2,000. The 12 finalists will also receive certificates of recognition from the DAP. Moreover, the winning photo entries will be featured in the 2023 DAP and APO desk calendar.
The winners or their authorized representatives may claim their prizes at the DAP main office in Pasig City until January 20, 2022 from Lalaine Bonagua or Laiza Ordonio at the DAP Public Affairs Desk.
The photo contest, which ran from October 19 to November 11, 2022, was conducted by the DAP, as the Philippines' National Productivity Organization, to support the promotion of the  Vision 2025 which is the Asian Productivity Organization's (APO) strategic plan for 2021-2025 that aims to achieve a "more inclusive, innovation-led productivity growth in the Asia-Pacific". The APO is a nonpolitical, nonprofit, and nondiscriminatory intergovernmental organization that was established in 1961 to advance the socio-economic development of the Asia-Pacific region through productivity. Composed of 21 member economies, the APO endeavors to attain this mission through research, capacity building efforts, and policy advisories.
xxx