The Development Academy of the Philippines (DAP) retains its ISO 9001:2015 Quality Management System certification after a successful second surveillance audit conducted by TÜV Rheinland on December 5-7, 2022. 
The three-day audit covered the DAP offices in Pasig, Tagaytay, and Mindanao, which were assessed with respect to their project management system for research, training, education and technical assistance services, and conference facilities management.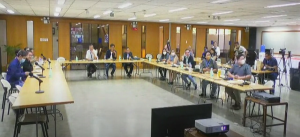 In photo: Closing meeting of DAP's 2022 ISO 9001:2015 audit attended by DAP's top management  led by President and CEO Atty. Engelbert Caronan Jr. (center, middle table), and TUV Rheinland audit leader, Lionell Aala (right)
The audit findings, which were discussed during the closing meeting, showed that the DAP delivers a good quality management system as proven by the absence of non-conformities. In addition, TÜV Rheinland auditors acknowledged the notable efforts of the Center of Strategic Futures – Center of Excellence for Data Science and Analytics (CSF-CEDSA) for its management of the program; the Graduate School of Public and Development Management (GSPDM) for its iGSPDM Nexus of Information, Technology and Education learning management system; the 95 percent overall customer satisfaction rating; the "Energy Efficiency Excellence" award received by the DAP; and  cost-savings measures of the procurement department.
"Normally, when we also audit different government agencies with[in] or not within the GOCC [government owned and controlled corporation] control, it's not common for us to observe this particular energy saving program across those different agencies," Lionell Aala, TÜV Rheinland's audit leader, noted during his discussion of the findings.
Aala also commended the General Services Division for the quality of its services with special mention to the motor pool unit for its adherence to safety driving.
Further, the DAP Conference Center in Tagaytay received good management feedback for its provision of adequate pantry supply, maintenance of accommodation facilities and quality food services, and utilization and maximization of Google Documents for monitoring purposes.
The DAP sa Mindanao (DSM), on the other hand,  obtained favorable feedback for the acquisition of  modern equipment for its operational performance. The DSM was also recognized for the awards bestowed on them by government agencies and local government units: plaque of appreciation from the Province of Agusan Del Sur for DSM's assistance in the creation of the LGU's 2022-2025 Executive Legislative Agenda; certificate of appreciation from the City Government of Davao;  and certificate of recognition from the Department of Education Region XI for the alternative learning system programs and basic education for out-of-school youth and adults of Panabo City division.
In closing, DAP President and CEO Atty. Engelbert Caronan thanked the management and staff for their support and cooperation that resulted in the successful audit.
The second surveillance audit is part of DAP's current ISO 9001:2015 certification that covers the period of  January 28, 2021 to January 27, 2024.
---
Arvie Joyce Cayabyab