The Development Academy of the Philippines and the Institut National du Service Public (National Institute of Public Service, INSP), France signed a memorandum of understanding (MOU) with a shared vision that will promote academic exchange and cooperation benefiting both institutions leading to development.
DAP President and CEO Atty. Engelbert Caronan, Jr., MNSA, and INSP Director Maryvonne LE BRIGNONEN individually signed the MOU and dated it on June 26, 2022 in commemoration of the 75th anniversary of diplomatic relations between France and the Philippines.
The INSP (formerly École Nationale d'Administration or ENA), created on 1 January 2022, isthe new French public operator of reference for the recruitment, initial training, and continuing education of senior managers and leaders of the State. As a school of application of excellence of future administrators of the State, the INSP's mission is to establish partnerships with the academic world, in France and abroad, and to contribute to the international influence of France.
The exploratory meeting that led to the renewal of partnership
Last April 7, DAP senior officers led by Atty. Caronan virtually met with INSP Senior Manager Alexandre Tran-Chuong. In his briefing, Tran-Chuong said that the INSP intends to increase its research and publication activities as well as to become a university in the future. He also shared that INSP has short programs, tailored-fit for specific public policy or management requirements.
Meanwhile, DAP Senior Vice President Magdalena Mendoza– recalling her 2014 meeting at ENA, France–shared the plans of then DAP Chairperson Cayetano Paderanga to develop programs like the ones that ENA offered in the past years, adding that ENA was a benchmark of the DAP when it comes to training programs and activities.
"The DAP and ENA have a lot of similarities/commonalities when it comes to their roles in training civil servants," Mendoza emphasized.
Tran-Chuong affirmed that there were indeed a lot of similarities between DAP and INSP. "One of our new priorities is to increase our cooperation with the Asia Pacific region. We also want to co-develop new programs with the government agencies in this region, and with their partners around the world," he said.
Likewise, DAP Vice President Alan Cajes narrated his experience on his attendance to the short course 'Managing Big Cities' in Paris, in 2014.
Tran-Chuong, on the other hand, briefly replied that he looks forward to welcoming new students from the Philippines and from the DAP.
Caronan alongside Mendoza, Cajes, and Tran-Chuong expressed excitement over the potential programs that will be developed under this partnership, which is expected to be deeply beneficial for both institutions.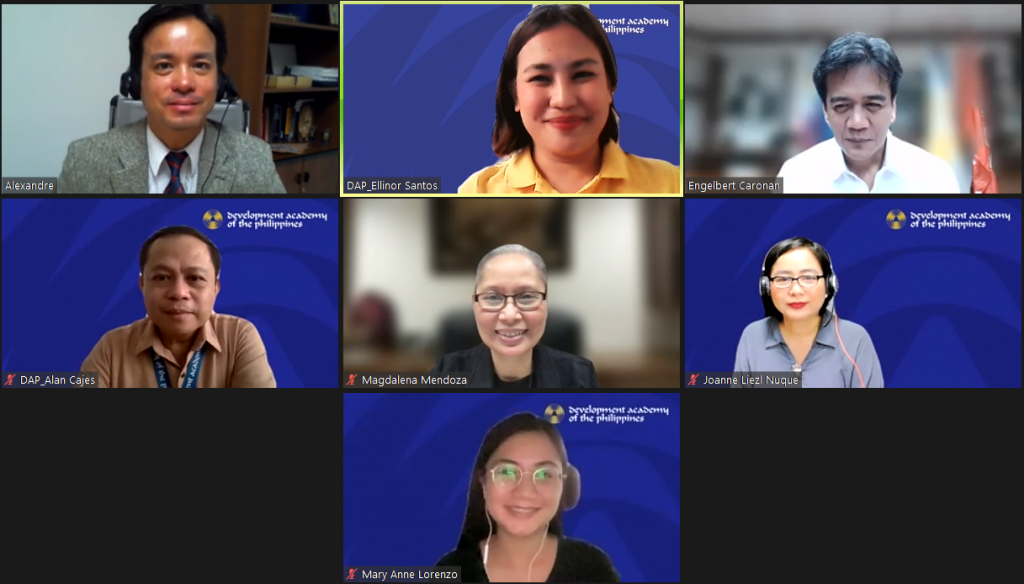 Strong ties with the French operator since 2014
The DAP has a long-standing partnership with the French operator (formerly ENA). The first MOU was inked in 2014 by then DAP President Antonio Kalaw, Jr. and ENA Director Nathalie Loiseau.