The Development Academy of the Philippines (DAP), through the Center for Governance-Policy Research Office (CFG-PRO), held the second installment of the Thursday Talks: Webinar Series on Socio-Political and Economic Perspectives titled "Accelerating the Potential of Digital Economy for MSMEs" under the Capability Building on Innovative Leadership for Legislative Staff (CBILLS) Program.
The webinar featured: Senator Loren B. Legarda as resource speaker; Go Negosyo Executive Director Thermina Ann L. Akram, and Department of Science and Technology-National Capital Region Regional Director Jose B. Patalinjug III as panel discussants; and UP Institute for Small-Scale Industries Director Melanie M. Moraga-Leaño as moderator.
During her session, Senator Legarda discussed the status of MSMEs in the country as well as some background on the MSME Law and the benefits the sector derives from it. She emphasized that advancement of the sector should be measured in the quality of life and that the challenge is the accessibility of Filipinos, especially the grassroots, to the opportunities provided to them by the government. Furthermore, she stated that agencies should shepherd the process of delivering assistance until impact measured shows quality of life has improved.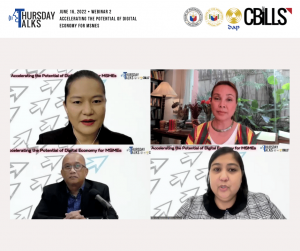 (From Top-left: UP ISSI Director Melanie Moraga-Leaño and Senator Loren Legarda,
From Bottom-left: DOST-NCR Regional Director Jose Patalinjug III and Go Negosyo Executive Director Thermina Ann Akram)
The panel discussants presented their respective organizations' efforts and programs that have helped MSMEs cope and thrive during the height of the COVID-19 pandemic. They provided policy recommendations that will future-proof MSMEs and maximize their potential in the digital economy such as expansion of accessible assistance in mentorship, e-commerce, and digitalization anchored on research and development, and innovation.
The CBILLS is being implemented by DAP in partnership with the Philippine Congress. To date, the program has trained a total of 476 legislative officers and staff through the program's 22 local courses, 20 lectures or webinars, and 12 international learning courses from 2018 to 2021.
Gabrielle Marie A. Allarey