The Development Academy of the Philippines, through its Center for Strategic Futures, conducted its first ever in-person START Hackathon with the theme "Innovative Solutions towards Smart and Creative Communities" on 13 to 15 September 2022 at the DAP Conference Center in Tagaytay City. The hackathon gathered students, professionals, and start-up innovators who participated in developing creative ideas to tackle some of the challenges faced by local government units (LGUs).
Participants of the START Hackathon huddle in their respective workspaces to focus on the development of their solution to challenges posed by the Hackathon
The City Government of Santa Rosa City in Laguna served as START Hackathon's first partner LGU for its pilot run. Prior to this, the DAP, in partnership with the Department of Science and Technology IV-A, provided technical assistance to the LGU of Santa Rosa on Smart City Assessment and Roadmap Development. Through this experience, the LGU was able to identify their priority focus areas which served as basis for the formulation of the Hackathon challenges. A call for proposals was launched nationwide to find the most promising solutions to address one of the five challenges. Ten teams were selected as finalists from the 58 proposals to develop their minimum viable solutions during the START Hackathon 2022.
48-hour Hacking Marathon
Coming from the words "hacking" and "marathon," a hackathon is a sprint-like event where programmers, project managers, and experts collaborate on software development projects. The aim of a hackathon is to develop a functioning program at the end of the event.
The 10 finalists were Baras, Care4Juan, CCS Pirates, GoodGovPH, TechKido, TechBomb, Uprise, ScrapCycle, Maricheck, and Fool Loop. The teams had diverse composition with innovators coming from state universities and colleges such as the Bulacan State University, Batangas State University, Caraga State University, Camarines Sur Polytechnic Colleges, Holy Angel University, Laguna State Polytechnic University, among others, as well as private start-ups and technology business incubators. The finalists were given 48 hours to code their programs and craft their pitch for the final presentation.
Start Hackathon mentors Albert "Bash" Yumol, Ricky Bulalakaw, and Raymond Freth "Pam" Lagria assisted the innovators by providing technical guidance and support to help them realize their creative ideas.
Headstart for start-ups
At the end of the 48 hours, the teams presented their products and pitches to the judges, consisting of a technical team from Santa Rosa headed by its Vice Mayor, Arnold Arcillas. The solutions were judged according to its novelty, feasibility, impact to the challenge being solved, scalability, and pitch presentation.
Scrapcycle emerged as the overall champion, with their online junk shop application that promotes responsible waste management by enabling people to trade their recyclables for money. Team Uprise finished as second place with their BIYAYA app, which encourages awareness of city policies and ordinances by incentivizing citizen engagement. Maricheck, an app to encourage citizen feedback on government projects through a reward system, won third place. All winners received cash prizes while the top two solutions received a seed funding of Php 100,000 each and their solutions will be adopted by the City Government of Santa Rosa.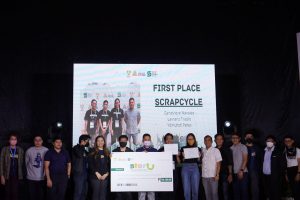 Winning Team Scrapcyle poses for a photo with Panelists and Organizers of the 2022 START Hackathon. They will take home Php. 50,000.00 cash and Php. 100,000 seed funding for their developed application
"Prior to participating in this hackathon, our proposal lacked refinement, notably in the problem section," said Genevieve Navales, CEO of Scrapcycle. Through the hackathon, the team was able to work with actual LGU data which helped refine their concept and ensured a problem – solution fit.
"We are currently preparing to test our system in one of Butuan's barangays. We'll start working on Santa Rosa soon. We are truly grateful to be able to compete in and win this competition because it has opened up a lot of doors for our startup," added Navales.
Harnessing Smart and Creative Talents
The START Hackathon is a kickoff activity of the Smart and Creative Communities (SCC) Network. The network aims to assist LGUs towards accelerated smart growth transformation by facilitating and promoting the collaboration of smart city players such as MSMEs, academe, industry, and national government agencies. Through activities of the SCC Network such as the hackathon, it aims to both support the start-up community and LGUs by linking the right solution to address a specific pain point.
"We have so many talented developers and programmers here in the Philippines. We must learn to utilize our own talents because I can see their potential to be the country's top economic driving force. However, they lack exposure to the right market and access to the proper resources," remarked Mayor Arlene Arcilla of Santa Rosa City in her video message.
She added, "With the help of this hackathon, we can focus and give them the proper guidance they need to achieve our desired output."
Senator Pia Cayetano, in her video message, emphasized the alignment of the SCC Network to her work as Senate Chairperson of the Committee on Sustainable Development Goals, Innovation and Futures Thinking. "It is so important that we support local initiatives in the local government units. On their own there are a lot of creative ideas especially if there are SUCs in your area. That alone is already a breeding ground for amazing ideas, but we need to have the systems in place so that we can truly nurture these talents that we have."
"Filipinos are known all over the world for our creativity. We need to harness these talents and energy to be able to give back to our own LGUs, to be able to develop smart cities and technologies using our natural talents, and further strengthen it with proper training and education," added Senator Cayetano.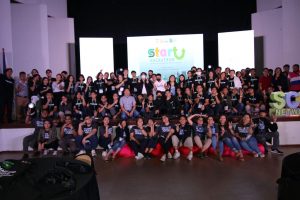 Members, participants and staff of the 2022 START Hackathon pose for a group photo as the Hackathon ends
---
-Jennifer Gayle Flores