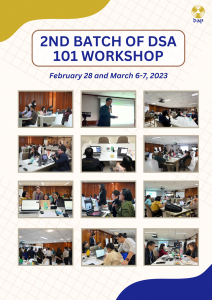 The Development Academy of the Philippines-Center for Strategic Futures , through its Center of Excellence for Data Science and Analytics program, partnered with the Human Resource Development Division in conducting the second batch of the short course on DSA 101: Introduction to Data Science and Analytics on February 28 and March 6-7, 2023 for some 21 technical staff members from eight centers and units.
The course, held via hybrid mode at the DAP-Pasig OD Corpuz Hall and via Zoom Communications, is part of the DAP's long-term strategy to enhance the technical competency and productivity of its workforce in 21st-century skills such as data science and analytics (DSA). The course's six sessions were delivered by the following DSA experts; University of the Philippines Assistant Professor Raymond Freth Lagria for DSA and data munging; Albert Yumol on data visualization and storytelling, and data ethics, quality, ownership, and privacy; and, UP Assistant Professor Simon Anthony D. Lorenzo for computational statistical analysis and DSA in the real world.
The participants demonstrated their learnings by identifying projects that could be integrated in their offices such as analysis of effectiveness of new employee wellness programs, management and tracking system for event facilitation and streamlining, centralized knowledge repository for centers, and student information portal for graduate programs.
DAP President and CEO Atty. Engelbert C. Caronan, Jr., stressed the importance of DAP's need to remain relevant in the modern world during the last day of the workshop on March 7, 2023. He also emphasized the need to upskill and utilize up-to-date technology to keep up with the demands of the digital age.