The Development Academy of the Philippines, through its Center for Governance – Policy Research Office (CFG-PRO), equipped 58 participants with monitoring and evaluation (M&E) skills through the Course on Basic Monitoring and Evaluation (CBME) 2023 on September 18-22. The participants came from 27 government agencies, government-owned and controlled corporations, local government units, and academic institutions.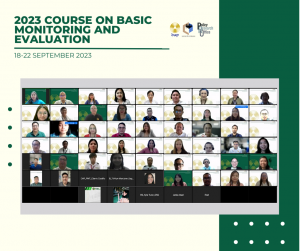 The 2023 CBME participants with resource speakers during the opening ceremony.
The CBME aims to equip technical staff with skills and knowledge necessary for the monitoring and evaluation of programs and projects. The course trains participants on using various M&E tools in their respective agencies and guides them in formulating their M&E plan.
The course's resource speakers comprised of the following M&E experts: Jesse David, M&E Staff chief economic development specialist of the National Economic and Development Authority; Jansen Mayor, senior regional technical advisor on M&E for Asia and the Middle East of the Lutheran World Relief; Katrina Miradora, research associate for USAID ProtectHealth of Palladium Global Philippines; Adelina Velasco, education management and organizational development specialist; Jimmy Francis Schuck II, officer-in-charge program manager of the Pantawid Pamilyang Pilipino Program (4Ps) and Gilbert Lumantao, director of the DAP-CFG Policy Research Office (PRO).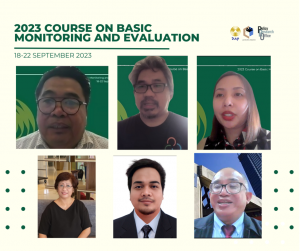 The CBME 2023 resource speakers: (top row, from left to right) Jesse David, Jansen Mayor, Katrina Miradora, (second row) Adelina Velasco, Jimmy Francis Schuck II, and Gilbert Lumantao.
In his discussion on the fundamentals of M&E, Mayor, underscored the importance of situating M&E in the project cycle and how it exists to guide the project manager and track progress towards the set targets.
"M&E should be able to help project teams learn and, when they gain knowledge on what works and what doesn't, project management is improved; consequently improving the probability of achieving results. Thus, M&E is more effective if it's integrated in all aspects of project management," Mayor highlighted. He added that both monitoring and evaluation have the same goal: providing information to decision-makers and program implementers; thus, helping them improve performance and achieve results. 
The five-day online course had eight sessions that tackled the importance of M&E in the public sector, fundamentals of M&E, designing M&E, data collection and management, analyzing and utilizing M&E data, reporting M&E results, practices and challenges of M&E sample cases and developing an M&E Plan. The participants' M&E plans were presented to a panel of experts as part of their training outputs. 
The CBME is one of the three public offerings of the PRO for 2023. The PRO conducted its online course on Policy Design and Development last July 17-21 and will be conducting the Course on Advanced Monitoring and Evaluation on November 13-24. For more information on these annual offerings, visit the PRO Facebook page.
–Clarrie Castillo