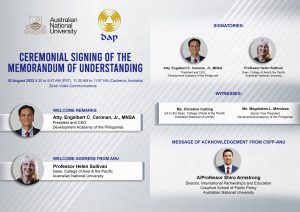 The Development Academy of the Philippines (DAP) continues to build its network as it is set to seal another partnership through a memorandum of understanding, with the Australian National University (ANU) represented by the Crawford School of Public Policy.  The partnership seeks to open more opportunities to collaborate on programs and projects that will help capacitate individuals in areas such as public policy and public administration aimed at improving the Philippine government's service delivery to the public.
The DAP, through its Center for Governance, and the Crawford School designed and implemented the International Learning Course on Public Policy and Public Sector for Senior Leaders in 2020, a salient component of the Capability Building and Innovative Leadership for Legislative Staff (CBILLS) program. Earlier in 2019, the CBILLS sent a delegation composed of legislative staff from the Senate of the Philippines and House of Representatives for an Observation Study Mission at the ANU.
The Crawford School of Public Policy at The Australian National University is Asia and the Pacific's leading graduate public policy school.
The ceremonial signing will take place on 30 August 2022 at 9:00AM (PST), via the Zoom platform.